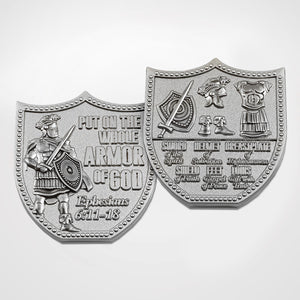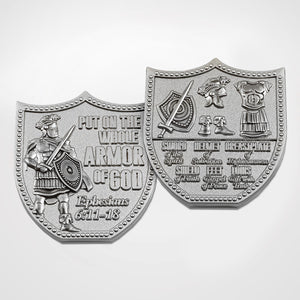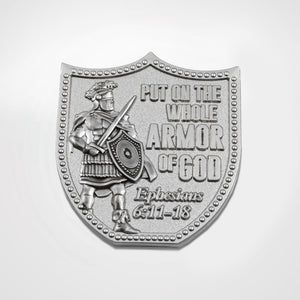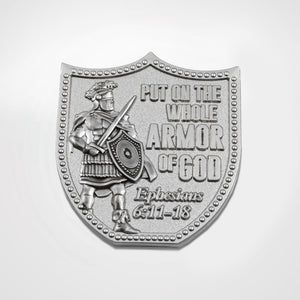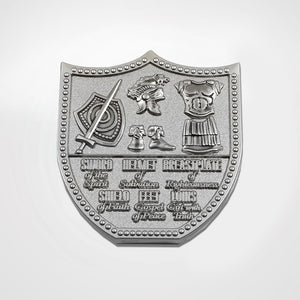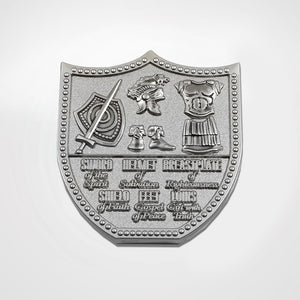 On Sale
Shield Armor of God Coin

Shield AOG Coin | Satin Nickel Plating | 1.75″ | Recessed Sand Blasting | 3D raised
Based upon the Bible verses found in Ephesians 6:11-18, the Armor of God Challenge Coin is a great way to carry a daily reminder of faith, strength, encouragement, and commitment.
A spin on our classic Armor of God coin, this unique shield-shaped coin features a satin nickel finish with 3D raised warrior and text "Put on the whole Armor of God" and Bible verse "Ephesians 6:11-18."
The back of the Challenge Coin also features images of the elements of armor along with specific phrases from the verses in Ephesians where Paul also advises us to stand with, "Loins: Girt with Truth", "Breastplate: of Righteousness", "Feet: Gospel of Piece", Shield: of Faith", "Helmet: of Salvation", and "Sword: of the Spirit".

These Challenge Coins make a great gift for family, friends, and church members.
©2016 Frank Clawson / SymbolArts, LLC. All Rights Reserved.