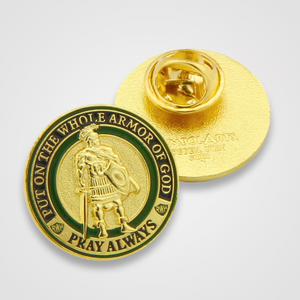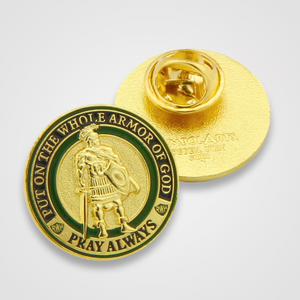 On Sale
Armor of God Pin

AOG Pin | Gold Plating | 0.8″ | Soft Enamel | Brass | Butterfly Clasp
Based upon the Bible verses found in Ephesians 6:11-18, the Armor of God Pin is a great way to wear a daily reminder of faith, strength, encouragement, and commitment.
On the front of the 0.8" diameter pin is a male warrior with the words from the Apostle Paul encouraging us to, "Put on the whole Armor of God", as well as "Pray Always". There are also two small shields with the letters "RWH" meaning "Return With Honor", as a reminder to return home with honor on a daily basis. 
These Pins make a great gift for family, friends, and church members.
©2016 Frank Clawson / SymbolArts, LLC. All Rights Reserved.